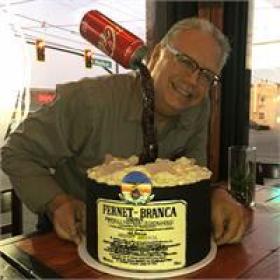 Contact Details
Topgolf CLE, Happy Camper Bar Car & Crazy Horse
I have been a bartender for 37-years and enjoy what I do. Currently I bartend at Topgolf, full-time and at the Crazy Horse part time. 
USBG member since December 2012. 
Elected to the Board of Directors in 2017 
National Treasurer 2019 - 2020.  
I serve on the following committees: Executive
Education
Finance (Chairman)
IBA Liaison
Chair of the NLCR Task Force
USBG representative for the PanAmerican Confrence 2018 & 2019.  
I have chaperoned Behind the Barrel.
I had dual careers for over thirty-five years. Besides bartending, I was with The Plain Dealer newspaper in Cleveland for 41-years.
As newspaper industry started to slide, I had to step up my bartending game. I joined the USBG in Cleveland in 2012 and was the treasurer since 2013-18, I became the Midwest Regional VP in 2108 join the National Board of Directors, in 2019 I became your National Treasurer.
When the glamor of the newspaper industry started slowly and painfully slipping away, I had found a new respect for bartending and the whole industry behind it. It has pulled me in and sparked new life into me.
It's a long complicated story but here is the condensed version:
The ad in the paper read: "Bartender, no experience needed."
I started that night at the Cloverleaf Bowling Alley.
That was on my 24th birthday. (I am working with Ray again, who hired me at the bowling alley at Topgolf 36-years later)
I was working a full time at the newspaper and with two small children we needed extra money.
I fell in love with bartending immediately and have been working two to four shifts behind the stick ever since. From the bowling alley, to neighborhood bars, large dance clubs, a chain restaurant, ski resorts, gentleman's clubs and now Topgolf.
My big break in bartending came when the movie Cocktail came out. Yes, I saw it when it came out. I was working a small corner bar where quite a few industry people hung out.   They taught me to flip bottles and tins and I entered a contest a large dance club. I came in second (Only to find up years later I won but they couldn't give it to a corner bartender with all of the big chains competing.) That propelled me out of the corner scene and into the big club atmosphere. Because of my position at the paper, I traveled all over the country and always made it a point to check out the clubs when out of town.
At The Plain Dealer I went from door to door subscription sales when I was in high school to my final position as Quality Assurance & Commercial Print Coordinator. I have been in supervision/management for over 20 of those years. 
Before the Internet, Windows and even Apple I was in the right place at the right time.  I was in Advertising Art as the production clerk making sure all of the art was drawn for ads in the newspaper.  Hand drawn art, there were no computers.  The art director was asked to evaluate using a computer to do art on.  It was a 286, DOS based computer.  It had a drawing program on it that was worse than the Oregon trail graphics.  I took it and was using it for forms using 5.5" floppies to run a program called SMART.  When I was promoted to Retail Advertising the Art Director told me to take it with me since we would "Never do art on a computer."  
The Plain Dealer was on of the first newspapers to build a new printing plant and transmit files from downtown Cleveland to our new state of the art printing plant thirteen miles away.
I had the only computer in Advertising ended up working with Microsoft, beta testing Windows and what is now the office suite,  Adobe, from the early days of PDF, and Photoshop training people across the country how to tone photos, and create PDF's. (Macs an PCs didn't talk to each other back then.) Then working to help Adobe to take Aldus Pagemaker into InDesign. I tested new Macs before they were released and trained staff from the old Mac O/S to OS X and using InDesign instead of the industry standard Quark Express. 
My experience in the newspaper industry has been a great asset in my bartending career as well. Advertising is all about the customer service and getting your message out. Just like taking care of your customers from behind the bar and getting their drinks out and providing a pleasurable experience for all.
Durning my years at The Plain Dealer I was also active in the newspaper as a whole working locally with local schools, the state of Ohio Department of Education and the Newspaper Association of America.
This included:
Cleveland Municipal Schools, Advisory Board member for Visual Communications
Industry Representative, Advisory Board for the Ohio Department of Education, Career-Technical Education, Visual Design and Imaging (VDI)
Board member and twice past President of the Great Lakes/MidStates Newspaper Conference.
Parma City Schools, Valley Forge High School, Visual Design Advisory Board
NAA Newspaper Association of America, Color Reproduction Quality Task Force & Chair of Digital Tearsheet Task Force
In 2009 is was inducted to The Graphic Arts Council of Cleveland, Hall of Distinction.
I currently sit on the board of directors for the West Creek Conservancy.  https://westcreek.org
My wonderful wife, Gabriella and I have been happily married for 39-years. We have three grown children, two grandchildren and recently raised six chickens. Our story is way better than anything above.