UNITED STATES BARTENDERS' GUILD APPOINTS THREE NEW MEMBERS TO BOARD OF DIRECTORS
The newest members join from Chicago, Seattle, and Pittsburgh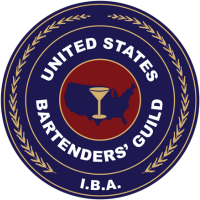 HENDERSON, NV (November 14, 2023) - Today the United States Bartenders' Guild announces that three newest members have been appointed to the organization's National Board of Directors. The new board members are a Chicagoan with a passion for serving others; a Seattle-based proprietor of multiple venues who was invited to present a cocktail at the National Museum of American History, Smithsonian Institution for the 200th anniversary of the Star Spangled Banner; and a classically trained musician affiliated with the Grammy Award-winning Pittsburgh Symphony Orchestra.
Head shots for the new members can be found HERE.
The new board members
Nigal Vann (Chicago): With over a decade of experience in hospitality, Nigal Vann uses his passion for the service industry as an outlet to take care of others in a unique and entertaining way. He is on a quest to grow his craft by putting himself in situations that result in the attainment of new skills that can be shared with others. He has worked in high volume venues, tiki focused venues, and has worked closely with chefs to create menu pairings.
Anu Apte (Seattle): Anu Apte is the sole proprietor of acclaimed Seattle cocktail den Rob Roy and co-owns award-winning bars, Trade Winds Tavern, Vinnie's Wine Shop, and Navy Strength, which won Best New American Cocktail Bar at Tales of the Cocktail in 2018. In addition to bartending across the globe and being included in hundreds of publications, she was invited in 2014 to present a cocktail at the National Museum of American History, Smithsonian Institution for the 200th anniversary of the Star Spangled Banner. She has a Bachelor of Science in Behavioral Sciences from the University of Utah, has successfully tested for the BAR 5 Day program, is a Registered Yoga Instructor, and currently sits on many boards for groups that are changing the landscape of the hospitality industry. She recently completed a Post-Baccalaureate Program for Counseling and Psychology Professions through UC Berkeley intending to integrate mental health care systems into hospitality professions.
Lisa Belczyk (Pittsburgh): Lisa Belczyk is an educator and experience designer, exploring the intersection of art, history, culture, food, and beverage. Originally a classically trained musician who specialized in aesthetic education and imaginative learning, Belczyk designed innovative education and community programs for nearly a decade and a half, contributing to the mission and vision of the Grammy Award-winning Pittsburgh Symphony Orchestra.
Bringing an artist's perspective to her work behind the bar, Lisa's deep experience and knowledge in craft cocktails and spirits allow her to create bespoke engagements that spark joy, curiosity, and delight in clients as they explore beverages through the lens of aesthetics and culture. Under her leadership as the President and board member, the Pittsburgh chapter of the United States Bartenders' Guild was named 2023 USBG Chapter of the Year.
How they were chosen
2023 is the first year the USBG implemented slate elections, a change made to ensure that the Guild's Board of Directors both encompasses the skills required to achieve the Board's strategic vision and is representative of the Guild's membership. 
In a slate elections format, a "slate" of candidates is selected by a governing body based on qualifications of value determined by that governing body. In the case of the Guild, the governing body is the Nominating Committee, and the qualifications of value are a mix of the professional, such as collaborative partnerships, supervisory level, training and workforce development, finance, and legislative advocacy; and the personal, such as occupation, gender, generation, ethnicity, sexual orientation, languages spoken, relationship statuses, and even household makeup. 
Slate elections ensure that candidates for nomination and election to the Board of Directors have demonstrable qualifications that make them a fit for the post they seek and that they bring with them the lived experiences that will enrich the Guild.
Member task forces and association governance experts convened to examine the process thoroughly. These groups studied best practices and defined the new nominations process. The process was guided by strategic alignment and inclusivity. Moving forward, the new policies will be reviewed and refined by the Board.
Said Kim Haasarud, Chair of the USBG Nominating Committee, "Working alongside my colleagues on the Nominating Committee has been an incredibly rewarding experience. The decision to shift to slate elections enables us to prioritize specific experience, diversity, and representation in an effort to make sure the Board of Directors looks like USBG membership and functions at a high level, all while emphasizing long-term planning for the Guild."
Follow the USBG through multiple social media channels: IG/FB/TWITTER: @usbg/@TheUSBG/@TheUSBG.
About the United States Bartenders' Guild
Founded in 1948, the United States Bartenders' Guild®️ is a non-profit professional society of bartenders and other hospitality professionals uniting the hospitality community to advance professional bartending. The USBG believes that every U.S. bartender achieves greater personal and professional success by connecting to diverse local and national hospitality communities. Through our network of over 40 communities nationwide, the USBG connects members with peer-to-peer learning, expert instruction, community service projects, and skills-based competition. Learn more at www.usbg.org.
Media inquiries:
Colin Baugh
Emblem Public Relations
323-219-3427