July 25, 2023

Announcing the top scoring Classic and Flair Bartenders who will be moving on to compete at the World Cocktail Championship in Rome, Italy and the Pan Am Competition in Santo Domingo, Dominican Republic this fall!
Introducing Team USA!
The 2023 USBG National Cocktail Competition has identified the champions who will be representing the USBG in two IBA global competitions! The highest-scoring Classic and Flair competitors will be heading to Italy this fall to compete in the Classic Division at the 2023 World Cocktail Championship (WCC) and the Runner-Up competitors will compete at the Pan-American (Pan AM) Cocktail Championship in the Dominican Republic.
Please help us celebrate Team USA Flair and Classic bartenders moving on to represent the USBG!
No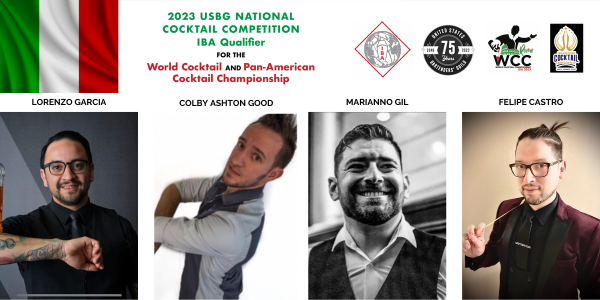 Competing in the 2023 IBA World Cocktail Championship
Classic competitor – Felipe Castro
Flair Competitor – Colby Ashton
Good Competing in the 2023 Pan Am Competition
Classic – Mariano Gil
Flair – Lorenzo Garcia